Don't Be a Victim of Mortgage Fraud
69161413MortgageFraudMain.jpg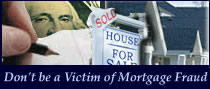 Mortgage fraud has become more prevalent throughout the nation and especially so in Georgia, particularly the Atlanta metropolitan area. Mortgage fraud has wreaked havoc on neighborhoods, ruined individuals' credit standing, and caused many millions of dollars of losses in Georgia. Don't be a victim of mortgage fraud or fall prey to becoming unwitting participants in a fraud scheme. Ensure that you are dealing with a reputable entity, ask questions about unusual or suspicious transactions, and be aware of any deal that sounds "too good to be true". If any loan officer or mortgage broker asks you to sign any document that you know contains a false statement or misrepresentation – WALK AWAY from the transaction and report the incident to the Department of Banking and Finance!
The Department wants to ensure that you are aware of some of the common fraud schemes that have come to our attention. Most of the fraud schemes involve variations of several of the following elements in which the "fraudsters":
Induce appraisers to inflate property values in order to obtain a larger mortgage loan for the "straw borrower."

Submit bogus invoices for phantom "upgrades" or "renovations" that falsely inflate the value of the property. This allows the fraudster, "straw borrower" or "investor" to obtain a larger mortgage.

Promise "investors" that their properties will be leased or rented and all mortgage, insurance, property tax and home owner association payments will be paid for them. In actuality, these payments are not made and there may or may not be any tenants.

Pay "straw borrowers" or "investors" to sign and submit documents containing false qualifying information such as false and counterfeit drivers' licenses, pay stubs, tax returns, W-2 tax forms, rent checks, bank statements, earnest money checks, Social Security numbers, and verifications of deposit, employment, rent and mortgage.

Pay "straw sellers" to falsely claim ownership of a property, appear at a closing where the property is sold to "straw borrowers", disburse the sale proceeds at the fraudsters' direction and thereafter appear at another closing to purchase the same property at a lesser amount with a portion of the sale proceeds, a practice sometimes called "flipping." Some flips are the same day and others within days, weeks or months.

Advance down payment amounts which are falsely represented as being paid by the borrower.

Cause "straw sellers" and "straw borrowers" to assume the identity of other people for the purpose of fraudulently obtaining mortgage loan proceeds.

Quit claim the property back to the seller or to a co-conspirator without notice to or permission from the lender.

File false satisfaction, cancellation and assignment of security deeds on a number of properties to eliminate the security interest of legitimate lenders, by either fraudulently transferring interest to a co-conspirator's company or showing the property to be free of all mortgage liens before obtaining additional mortgage loans on the property.

File false and forged Quit Claim deeds transferring property from true owners to "straw sellers" and "straw borrowers", thereby gaining control of the property to use as security for fraudulent loans.
More Information
Georgia Real Estate Fraud Prevention & Awareness Coalition (GREFPAC)
The GREFPAC works to:
Prevent real estate and mortgage fraud;

Facilitate cooperation among and between industry partners, regulators and law enforcement agencies;

Pursue compliance with, and enforcement of, existing regulations and statutes;

Develop and promote industry practices and regulatory and statutory reforms that will benefit consumers and industry partners; and

Promote public awareness through information and education.
You will find valuable information about preventing mortgage fraud on GREFPAC's website - http://www.grefpac.org/
You may report suspected mortgage fraud in Georgia to the Department by downloading our 
Reporting Mortgage Fraud form .  Doe not use this form if you are a consumer with an issue or complaint regarding your own home loan.
Additional Resources for Mortgage Fraud Prevention:
Don't Be a Victim of Mortgage Fraud - Related Links